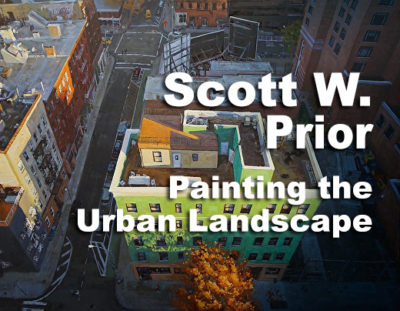 Instructor: Scott W. Prior
Medium: Oil Painting (Plein Air)
Dates: March 27–28, 2017
Class times: 9:00–4:00
Tuition: $275.00
Class Size: 15
Scott will be demonstrating his approach to painting the urban landscape starting with tight accurate drawing, followed by loose, painterly paint application. He will communicate the basics of painting a dynamic urban scene focusing on values, edge control, proportion, and refining shapes.
Students will hone their skills by learning to see how light, shadow, color, and temperature change, and how to apply these elements to painting.
We will be going on-location to some of Monterey Peninsula's best urban landscapes where you can find much to be inspired with. Some options are Cannery Row, Spreckels, Fremont Ave–Monterey, Fisherman's Wharf, etc…
Scott W. Prior CAC, relishes the immediate, take-it-as-it-is, gritty reality of contemporary genre. There is a muscular directness to his work—an honesty worthy of analogy to the turn-of-the-century Ash Can painters of New York such as George Luks, John Sloan and Robert Henri. ~ Jean Stern, Executive Director of The Irvine Museum
Southwest Art magazine featured Scott W Prior
Biography